Back to news grid
Coming Soon - New Cars you should be excited for!
There have already been some great debuts of cars in 2020 but you'll be happy to know that there are plenty of more new releases to get excited over! We'll round up some of the upcoming cars releases we are looking forward too.
Maserati MC20
The Maserati MC20 is due to be revealed later this year, the new sports car is Maserati's most ambitious release since the MC12 in 2004, as they aim to triple sales after big investment. The Italian brand is calling this a mid engined 'super-sports car' that will challenge the junior supercars available from Ferrari, Aston Martin and McLaren. The placement of the air-intakes, lights and overhangs all suggest a classic design from Maserati that should stand out in comparison to their rivals. The engine is called the Nettuno, developed & built in house by Maserati - it's a 3.0-litre, 6-cylinder, twin turbo unit and delivers 613bhp at 7500rpm and 538lb ft of torque at 3000rpm. The V6 uses an F1-derived combustion system, which aims to provide both efficiency and power. Allegedly acceleration is capable of a 0-60 in the 2.9 second range, and a 0-120 sprint happening in 8.0 seconds. It'll top out just across the 200 mile per hour mark.
BMW M3 and M4
BMW has released official images of its hotly anticipated new M3 & M4 models, which were recently revealed online. The recent tly facelifted 4 Series' massive new kidney grille is now on the M4 and M3, this is a point of controversy for many BMW lovers as many prefer the old design but it seems this grille is now been applied to several BMW models. There are many familiar 'M' design details, including aerodynamic wing mirrors, lowered side skirts, quad exhaust tips, and a rear diffuser which gives the car it's agressive looks. Also for the first time the BMW M4 will come with four-wheel drive, as these models will use BMW's latest xDrive four-wheel-drive system – similar to the system fitted to the X3M and X4M. The M3 and M4 get a heavily sculpted bonnet and both cars are wider than their predecessors – the M4 by almost two centimetres and the M3 by almost three centimetres.
Gordon Murray T50
Gordon Murray's new V12-engined T50 supercar, is the successor to the McLaren F1 from 1992 and is due for manufacturing next year. Murray calls this "the purest, lightest, most driver-focused supercar ever built" and labelled the 'T50' because it's Murray's 50th car design in their history. Powered by a new 650bhp naturally aspirated 4.0-litre Cosworth V12, the T50 will be built entirely by Gordon Murray Automotive with each car costing £2.8m. The shape of the vehicle references F1 design through it's compact size, the arrowhead front panel, the roof-mounted air scoop, the dihedral doors and the use of smaller windows in it's side glass. The T50 is said to weigh just 986kg at the kerb – about two-thirds of the weight "an average supercar" according to Murray. This is a supercar designed to be petite and light weight. Despite the similarities in design to F1 vehicles, Murray won't be aiming to break Nürburgring lap records or set blistering acceleration times. "I have absolutely no interest in that," he said. "Our focus is on delivering the most rewarding driving experience of any supercar ever built."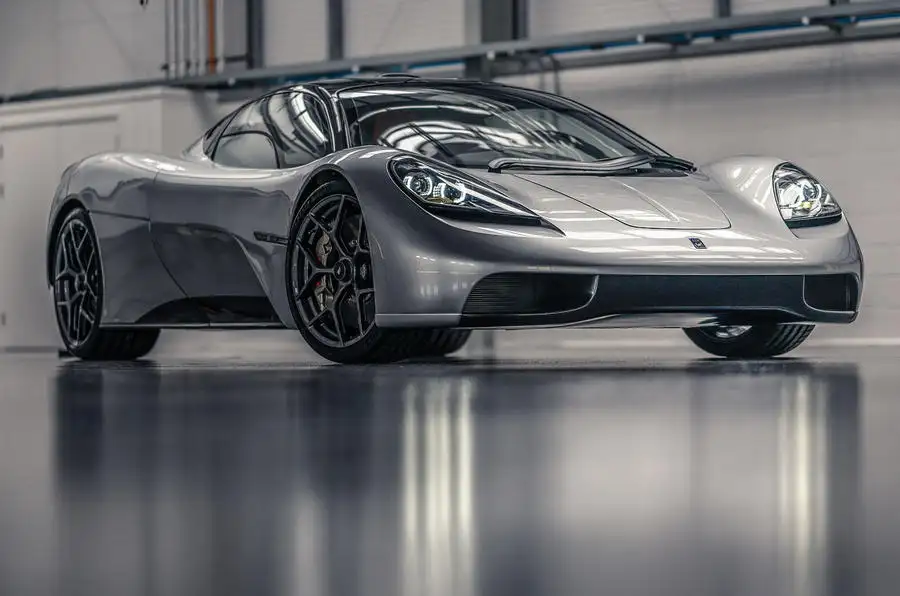 Nissan Z Proto
The Nissan Z Proto is the long-awaited successor to the Nissan 370Z and is finally set to be revealed in the next 12 months. This sports car is expected to have a twin-turbocharged 3.0-litre V6 engine producing around 400 horsepower. The Z, as a pure sports car, represents the spirit of Nissan, explains Nissan boss Makoto Uchida. "It's a key model in our transformation plan, and it's proof of our ability to do what others don't dare to do." Design boss Alfonso Albaisa admitted that after 'countless studies and sketches', he and his team decided the Z Proto was to become a time-traveller, taking in Z cars of the past and predicting what lies ahead.
Golf R
Following the recent release of the new Mk8 Golf GTI, fans are now waiting for official details of its faster sibling, the Golf R - which is set for release in the next 12 months. New spy shots show an updated exterior design with the same sweeping headlights as the new Mk8 Golf, which give it a distinctive look that sets it apart from its predecessors. At the front, the rest of the styling changes are subtle but the rear is where you notice the design changes. The four aggressive exhaust tips remain but VW's added a bolder motorsport-inspired rear diffuser and further up, there's a larger roof spoiler that adds to the sporty aesthetic to this model. The Golf R will be powered by the same engine as the Golf GTI, a turbocharged 2.0-litre four-cylinder petrol unit, codenamed "EA228" but it will have much more power than the GTI. Other details have not been confirmed yet but it is expected the Golf R will send its power to Volkswagen's familiar 4MOTION all-wheel-drive system with no manual version is anticipated. The 0–62mph sprint should take around 4.5 seconds, while top speed will be electronically limited to 155mph.
Rolls Royce Ghost
Aimed at a new demographic of business professionals looking for a smaller, less conspicuous, and minimalist design for a Rolls-Royce model, the long-awaited 2021 Rolls Royce Ghost has arrived succeeding the Series II Ghost from 2009. The exterior's front end stands out because of the 20 LED lights beneath the radiator grille that softly illuminate the top of the grille. The interior of the Ghost has undergone a significant transformation since it's last update. A newly developed feature is the illuminated fascia, which graces the dashboard with the illumination of stars and a Ghost nameplate display while a constellation of more than 850 glowing "stars" in the headlining creates an outer-space experience for rear passengers. The new Ghost comes with Rolls-Royce's own 6.75-litre twin turbo V12 engine, it also gets four-wheel drive for the first time. When you accelerate hard it sends power to all four wheels for maximum traction and this means the Ghost can do 0-60 in just 4.6 seconds.